This super easy to make Asian Salad Recipe is packed full of healthy veggies and tossed in a tasty sesame ginger salad dressing. It's fresh and crunchy and a crazy delicious side dish. | vegan + paleo + gluten-free + Whole30 compliant | Today we're heading back to September 2012 for this 20th edition of Throw Back Thursday.
This Asian Cabbage Salad with Ginger Peanut Dressing is a healthy, easy to make Thai inspired side dish made from simple, wholesome ingredients!
Do not let the noodles sit in the sauce toss the complete salad together just before serving – to save some time the dressing and/or the pasta can be prepared a day in advance – you can add in your favorite veggies to the salad if desired, the amounts may be doubled to yield 6-8 – this is very good!
Asian Noodle Salad with Creamy Peanut Dressing. A flavorful, easy, and healthy cold pasta salad recipe! Easy to make ahead and feeds a crowd.
Betty Crocker's Heart Healthy Cookbook shares a recipe! Add something hearty to your family's Asian cuisine night! Serve chicken salad drizzled with peanut say dressing – a dish that's ready in just 15 minutes.
First, let's start with this luscious, flavor packed Asian Peanut Coconut Dressing. Its the dressing of my dreams. First of all its creamy. Love me a creamy salad dressing and the best way to whip up a silky dressing or vinaigrette is in your blender…sssooooo smooth. This dressing's
This Crunchy Asian Salad with Sriracha Peanut Dressing is so crazy good I was eating it for breakfast the next day! The BEST Asian Salad recipe!
Fresh and crisp salads are the best. Moist turkey tossed in peanut dressing, a low-calorie salad, is an option for left-over turkey.
This recipe was inspired by the popular Thai Crunch Salad served at California Pizza Kitchen. It's made with crisp Napa cabbage, crunchy vegetables and edamame but it's the creamy peanut dressing that makes it so good; I …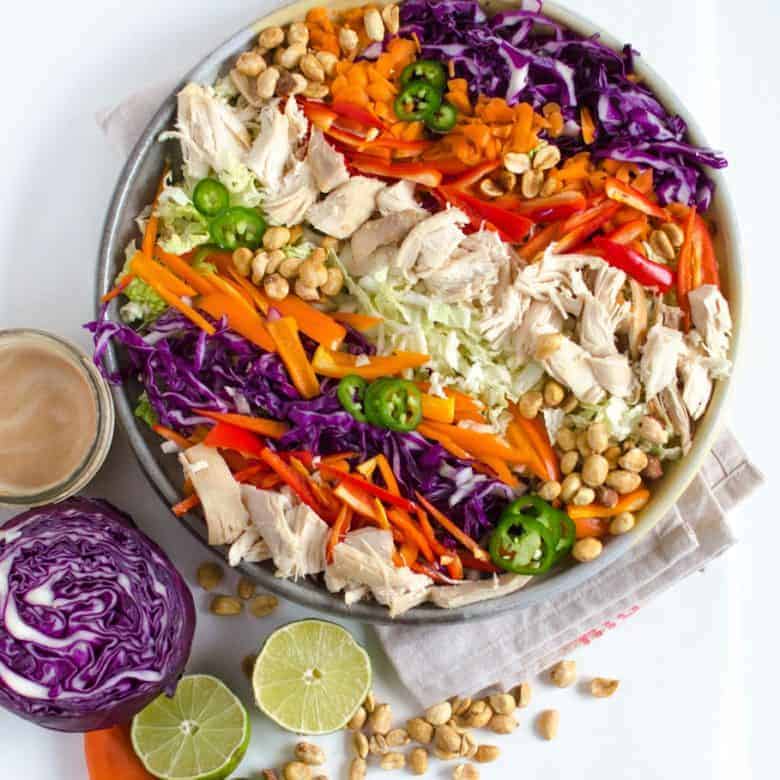 TESTED & PERFECTED RECIPE- This Asian Slaw with Ginger Peanut Dressing is delicious on it's own or with any simply prepared Asian chicken, fish or pork.